God sends us companions on our spiritual journey, for us as individuals and for us as an organisation or ministry. For our Custody, St Anthony has been our patron saint from the beginning.
Why St Anthony you might ask? Well, it goes back to 1957 when Friar Vergil Mannion arrived in Singapore to establish a sociological centre to offer an alternative to communism. The centre was named Studium Sociologicum in Latin, but its name in Chinese – 安道社会学研究社 – translates to Anthony Sociological Research Centre. There is nothing that explains why the friars chose St Anthony as the centre's patron though. Perhaps St Anthony, the patron of finding lost things, will help us find the answer to that one day!
In 1991, when our Custody, dependent upon the Australian Province, was established, the new entity chose to keep St Anthony as its intercessor, protector and guide. When our Custody became autonomous on 25 April 2023, we could have chosen to adopt a different saint as patron, but we wanted St Anthony to continue as our main patron. After all, he has helped us find our way all these years.
However, the Custody did adopt a co-patron, Friar Gabriele Allegra, for it was he who conceived the idea of setting up the sociological centre. Friar Gabriele Allegra was recognised for his holiness and great contribution to the church and hence beatified in 2012 as Blessed Gabriele Allegra.
We commissioned a painting of our co-patrons for our declaration of autonomy. In it, Blessed Allegra holds a book, and on the cover are the words 圣经, which translates to "holy scriptures". This is because Blessed Allegra is well-known for his pioneering efforts to translate the bible into Chinese from the original Hebrew and Greek. Blessed Allegra is credited with the founding of two research centres – one on the bible, the other for sociology.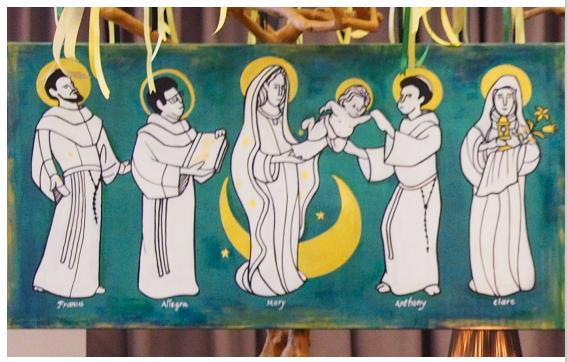 May the co-patrons of our Custody, St Anthony and Blessed Allegra, inspire all of us friars and all of you to work hard and pray even harder as you bring the Good News to the people, that they may find their way to God, who is always looking out for us, especially those of us who are lonely and lost.
St Anthony and Blessed Allegra, pray for us