After three years of virtual meetings, the superiors of the Franciscan Provinces, Custodies and Foundations in Asia-Oceania were finally able to gather in-person for a meeting with the Definitor General for Asia-Oceania, Friar John Wong, and General Bursar, Friar John Puodziunas. Over the course of the meeting in Bali from 1-5 May 2023, they shared updates on the situation in their respective entities and discerned possible collaborations prayerfully.
Also, at the Franciscan Conference of Asia-Oceania (FCAO) meeting were the friar bursars and lay finance staff. Together the participants deepened their appreciation of the concept of fraternal economy and the stewardship of finances and assets.
Some of the pertinent decisions that came out of this meeting were:
• Regional Formators Course – Training for formators has always been a priority, and there is an impetus to revive the Franciscan Study Centre of Asia, based in Manila, with a course for formators. Friar Derrick Yap is in the team that will draft the course programme.
• Lay Brothers Gathering – The International Gathering of Lay Brothers will be held in 2025, and each conference is to organise its own gathering to begin conversations to prepare participants for the international gathering. Singapore will host the conference level gathering to be held from 13-17 May 2024.
• Missionaries for Papua New Guinea – To further boost the Franciscan presence and ministries in the various cities in Papua New Guinea, there is an appeal to send more friars, in particular those with leadership, administrative and formation competencies.
• Voluntary Solidarity Contribution – Franciscan entities all over the world are required to contribute financially to the running of the General Curia (Franciscan headquarters) in Rome, and the superiors deliberated on the most suitable contribution model to implement.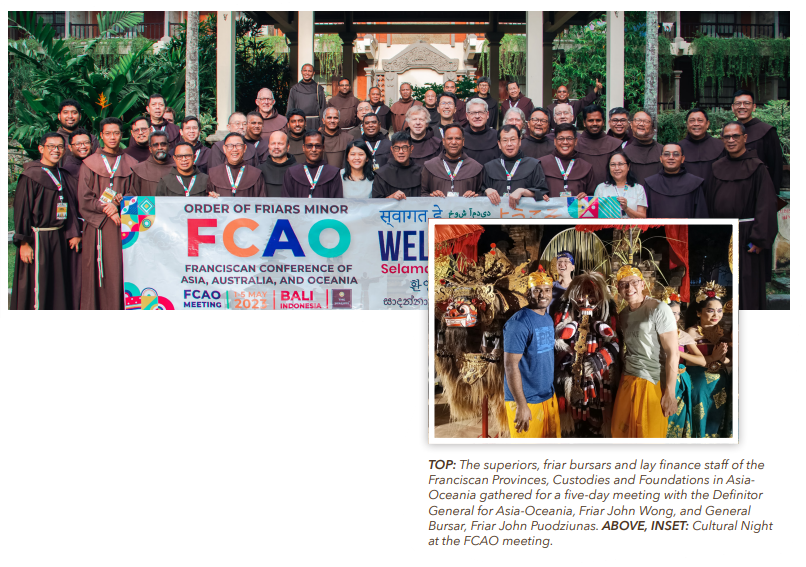 Our Custos Friar Derrick Yap returned from the FCAO meeting energised. "My time there felt like a time of retreat. It started with an amazing session on fraternal economy given by our General Economo (Bursar). Even though we were talking about finances, Friar John Puodziunas talked about the spirit of fraternal care as the way we can be good stewards of our assets. It was eye opening as well as heart opening," he shared.
"This paved the way for more fraternal and honest sharing amongst us over the next few days, despite the fact that most of us were meeting for the first time. In the spirit of St Francis, we confidently made our needs known, and we trusted that our brothers had our best interests in their hearts."