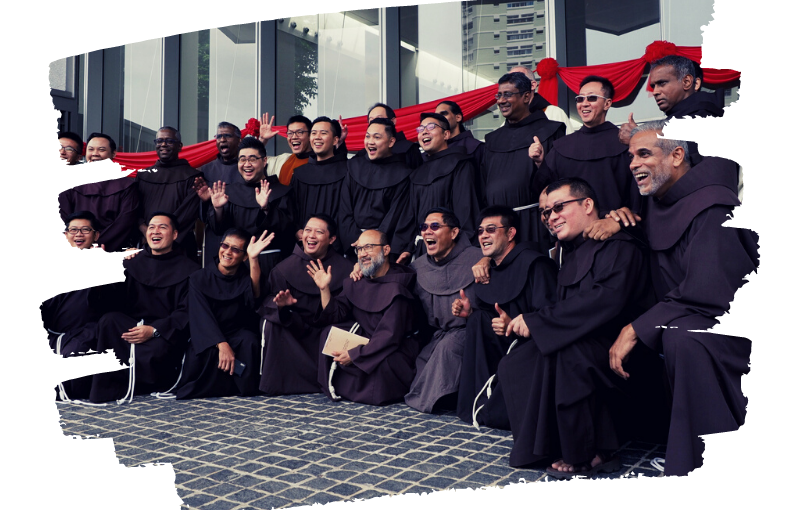 CUSTODY OF ST ANTHONY
The Custody of St Anthony of Padua Malaysia-Singapore-Brunei was officially constituted in Singapore in May 1991, dependent on the Australian Province of the Holy Spirit. Friar Phillip Miscamble was named its first Custos. By then, the friars had been running the Church of St Mary of the Angels in Bukit Batok for 21 years.
Today, the Custody comprises five communities of friars – two in Singapore and one each in Kuching, Johor and Penang – and four parishes.
The Church of St Mary of the Angels in Singapore was our first parish, set up in 1970 at the request of the Singapore Archdiocese. In 1999, the Custody assumed responsibility for its first parish in Malaysia – St Ann's Mission in Kuching, Sarawak. Today, the friars are responsible for two more parishes in Malaysia – the Church of Risen Christ, Ayer Itam, Penang, and Church of St Joseph, Plentong, Johor.
The Custody is responsible for the formation of young men entering the Order from Singapore and Malaysia, and hence has two formation communities. Novices (2nd Year Students) and Friars in Initial Formation, i.e. those who have made their Profession of Simple Vows, live in Greccio Friary in Singapore, and there is a pre-novitiate formation community in Penang.
Besides parishes and pastoral work, the friars in the Custody of St Anthony also run a spirituality centre and a columbarium in Singapore. The friars also minister to members of the Franciscan Third Order Secular in Singapore and Malaysia.
In addition, in keeping with the evangelical and missionary nature of the Franciscan Order, several friars from the Custody have been sent to Australia, Japan and New Zealand. There they work in a variety of missions promoting not only spiritual life but also the human and social development of the local community.