World Youth Day may be an event for young people, but Pope Francis' final message to the pilgrims at the closing mass on 6 August 2023 is one that all of us can take to heart.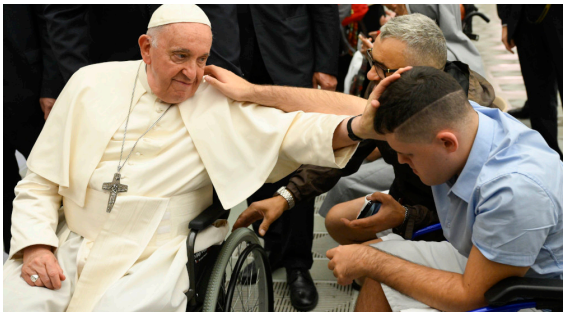 "What will we take back with us as we resume our daily lives?" he asked the pilgrims. He drew his answer from the Gospel (of the Feast of the Transfiguration): to shine, to listen, and to be unafraid.
Shine: Jesus is transfigured; "his face shone like the sun" (Mt 17:2). We need something of this burst of light today, says the Holy Father. And we can be this light in the world. "We radiate light – we shine – by welcoming Jesus into our hearts and learning to love as he does. … whenever you do works of love, you become light. But the moment you stop loving others and become self-centered, you extinguish your light."
Listen: From the bright cloud overshadowing the disciples, the Father said "This is my Son, the Beloved … listen to him!" (Mt 17:5). "To listen to Jesus, that is life's secret. Listen to what Jesus is saying to you," says Pope Francis. And if we feel we do not know what Jesus is saying to us, the Holy Father says to read the Prayer of St Francis before the Crucifix of San Damiano Gospels, and listen to what Jesus is saying to our hearts. "For he has the words of eternal life for us, he reveals that God is our Father, that God is love. He shows us the way of love," he says. "Listen to Jesus; otherwise, even if we set out with good intentions along paths that seem to be of love, in the end those paths will be seen as selfishness disguised as love. Be careful of selfishness disguised as love! Listen to Jesus, for he will show you which paths are those of love. Listen to him."
Be Unafraid: Jesus' last words to the disciples at the Transfiguration were "Do not be afraid!" (Mt 17:7) – words to remember whenever we feel inadequate, lose heart or think we are falling short. Pope Francis reminds us that Jesus knows our hearts, our lives, our joys, our sorrows, our successes and failures, and he says to us, "Have no fear, take heart, do not be afraid!".
As we go about our daily lives, let us remember the Holy Father's exhortation to the pilgrims – and to all of us – shine, so be radiant; then, listen in order not to take the wrong path; and be unafraid. Do not be afraid.