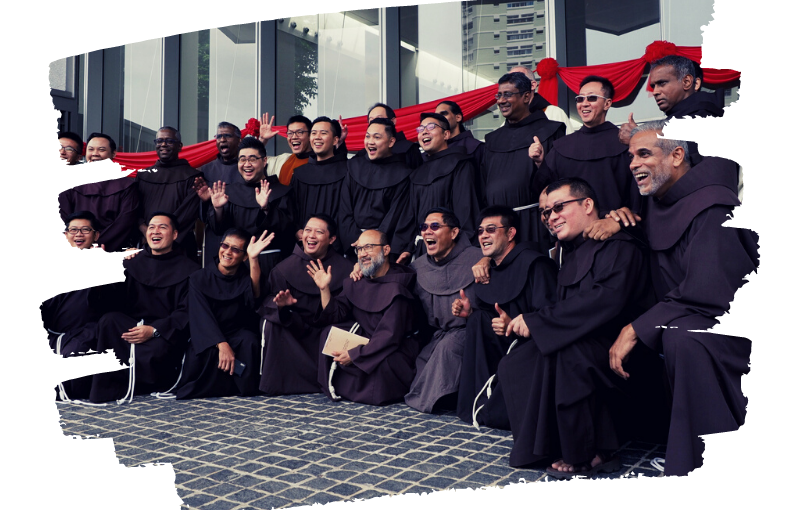 Milestones
1950s – The Vatican decides that there is a need to promote the Social Teachings of the Church and to reach out especially to the Chinese in the region

1957 – Franciscan Friars officially begin working in Singapore

1958 – Official Dedication of the new St Anthony Friary in Old Jurong Road, Singapore

1970 – The friars enter into a contract with the Singapore Archdiocese to run Church of St Mary of the Angels, Bukit Batok, Singapore

1984 – Commencement of local friars' Formation programme in Singapore

1991 – Establishment of Custody of St Anthony (Malaysia-Singapore-Brunei)

1999 – The friars enter into a contract with the Kuching Archdiocese to run St Ann's Mission, Kota Padawan. St Francis of Assisi Friary is officially erected in Kota Padawan, Kuching

2002 – Official Dedication of new development comprising St Anthony Friary, Church of St Mary of the Angels, San Damiano Community and Franciscan Columbarium

2007 – Greccio Friary is officially erected in Chestnut Drive, Singapore

2008 – The friars enter into a contract with the Malacca-Johor Diocese to run Church of St Theresa, Masai. The first community was formed and lived in Majodi Centre.

2013 – St James of the Marches Friary is officially erected in Plentong, Johor Bahru to help in running parish ministries and eventually in the care of the migrants and evangelization office.
2017 – The friars enter into contract with the Penang Diocese to serve in the Church of Risen Christ, Ayer Itam and to serve as chaplains to The Little Sister of the Poor- Home for the Aged and Mount Miriam Cancer Hospital.
2017 – The friars and the parishioners of St Ann celebrated the first mass in the newly built Church of St. Ann, Kota Padawan, Kuching.
2017 – The opening and blessing of San Damiano Spirituality Centre (formerly known as San Damiano Friary) to provide a platform to share our Franciscan Spirituality.
2018 – Penang Friary is officially erected as a pre-novitiate formation community that is affiliated to St James of the Marches Friary (JB).
2018 – The opening and blessing of the renamed and repurposed Lady Jacoba Franciscan Thrift Shop at the basement of the Franciscan Complex (Bukit Batok).
2020 – Fiftieth anniversary of the Church of St Mary of the Angels
2021 – 30th anniversary of the Erection/ Establishment of the Custody of St Anthony.
2022 – The establishment of OFM presence in the Archdiocese of Kota Kinabalu in September has become a dream come true after Abp John Wong of Kota Kinabalu and Custos Derrick Yap signed the Agreement of Foundation to permit the OFM to establish a community there. This establishment will be the 4th Malaysian Mission after Kuching, Johor and Penang. 
2023 – On the morning of 25 April 2023, Friar Massimo Fusarelli OFM, Minister General of the Order of Friars Minor officially declared the autonomy of the Custody of St Anthony (Malaysia-Singapore-Brunei), previously dependent upon the Province of the Holy Spirit (Australia).
2023 – As a concrete expression of the Custody's ongoing commitment to the Poor and Marginalised, as well as for Mission and Evangelisation Efforts, the Custody launched 'St Anthony's Touch', a fund specially reserved for initiatives in these areas.