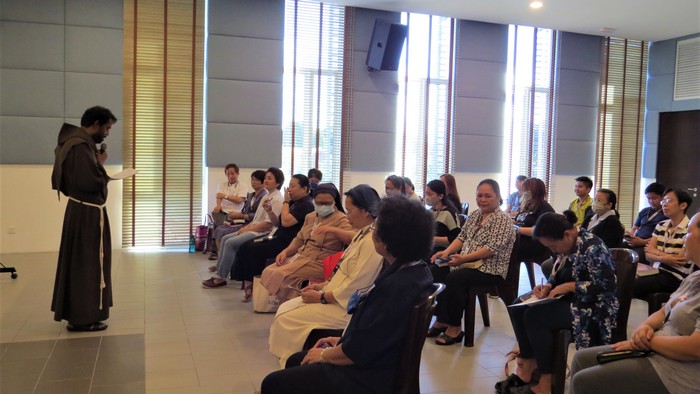 KOTA KINABALU – Delivering his sessions in a fluent malay, Friar Arul Maridass OFM guided the staff of Catholic Archdiocesan Centre for a half day Lenten Recollection, taking the theme 'Jesus' Experience in Our Ministries'.
Friar Arul, who is currently serving as assistant priest at St Joseph, Papar, said that for a person who had received baptism, he or she must have an experience 'being' with Jesus. Just like someone walking under a light where there should be a shadow of that person, likewise, that should be our life by which Jesus is inseparable with our Christian daily living.
Being a staff at the administration centre of the diocese is a privilege and also a vocation, said Friar Arul. "Out of thousands of catholics in the archdiocese, here you are, working for the Archdiocese. In deed it is a privilege, but above that, look at it as a vocation that you're serving the catholic community through the specific job that you are entrusted with," explained Friar Arul.
Expounding of the meaning of Rukun Negara by extrapolating it with biblical verses, Friar Arul said that the national principles have an implication which is applicable and necessary for Christian life. Giving an example on the first principle, 'Faith to God' (Kepercayaan kepada Tuhan), he said that being citizen of the country and also as Christians, daily lives is being defined from the implications based on the first principle.
The sessions was then followed by 'washing of feet' among the staff symbolising service to each other as a community within the CAC. The half day recollection then ended with a Eucharistic celebration.
Source : Catholic Sabah