AIR ITAM, Penang: Parishioners of the Church of the Risen Christ (RCC) hosted a dual get-together on December 30, 2022 at the parish hall to thank outgoing parish priest, Friar Arul Mariadass OFM, and Postulant Director Friar John Soh, OFM. The event was also to welcome the incoming parish priest, Friar Esmond Chua OFM, and assistant priest, Friar Crispus Mosinoh, OFM.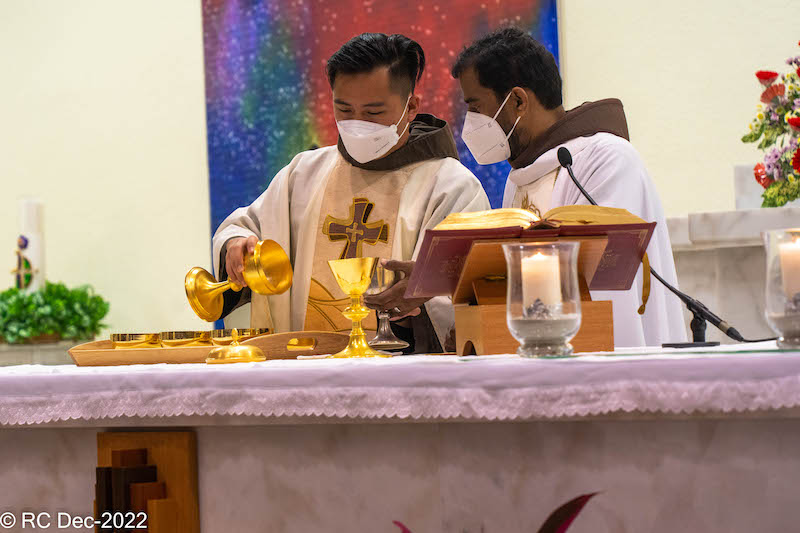 The change comes with Friar Arul completing his two-term (six-year) tenure as parish priest at RCC. The evening began with a thanksgiving Mass presided over by Friar Arul, with Friars Esmond and Crispus concelebrating.
In the speeches by the PPC chairman, Senior Citizens group, and the Mandarin Apostolate coordinators, it was evident how Friar Arul captured the hearts and minds of parishioners across all ages. His down-to-earth simplicity and immense grasp of the scriptural teachings in dealing with the realities of Basic Ecclesiastical Communities left a lasting impact on the community.
During his stewardship, parishioners grasped a better understanding of the principles and tenets of the Franciscan way of life, which is to proclaim the Gospel of life through an intense life of prayer, penance, and poverty. One prominent aspect is the practice of community living, a life focused on togetherness in brotherhood and communion and existence for one another.
The speakers also thanked Friar John for his tireless contribution and unconditional service to the parish. In his departing speech, Friar Arul thanked the congregation for their loving support throughout his tenure and added that this gives him the impetus to move on and accomplish his new mission in Kota Kinabalu, Sabah. The event ended with a sumptuous dinner and parishioners mingling with the friars. Christ's love was felt everywhere.
Friar Esmond last served as the assistant priest at the Church of St Mary of the Angels, Singapore.
Source : Herald Malaysia