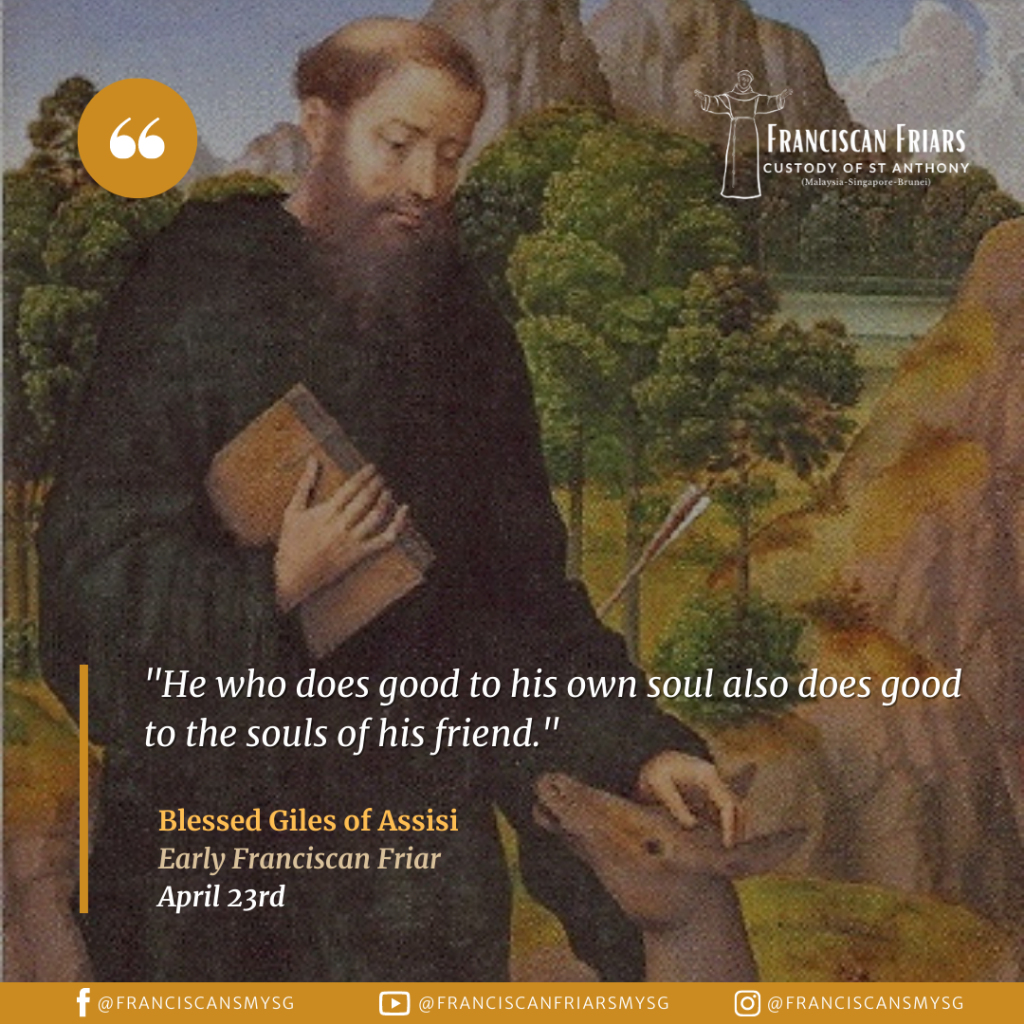 St. Francis liked to refer to Brother Giles, one of his original followers, as "the Knight of Our Round Table." He especially commanded Giles for his simplicity and his spirit of poverty. For some years Giles accompanied Francis on his preaching tours. When the saint had finished preaching, Giles would turn to the people and say, "What he says is true! Listen to him!" Believing that Lady Humility was the best preacher, he advised a brother who wished to preach in the piazza of Perugia to proclaim in his sermon: "Boo, boo; too much I talk, but little I do."
Eventually, after Francis encouraged him to go forth and spread the Gospel, he went on pilgrimages to Compostela in Spain, to Rome, and to the Holy Land. Wherever he went, he insisted on working in exchange for alms. A mission to Tunis to preach to the Muslims there ended in failure when local Christians, afraid of stirring up trouble, implored him to return to his ship.
Brother Giles spent much time contemplating the joys of heaven. Just the mention of word like paradise would incite him to ecstasy – a fact mischievously exploited by street urchins whenever they saw him approaching.
In The Life of Brother Giles by Brother Leo, it is noted that Giles possessed "seven very praiseworthy and wholesome and perfect qualities." These included his faith, reverence, devotion, compassion, consideration, and obedience. "The seventh, that he was beloved by God and men because of the graces which were showered on him."
Giles outlived most of the original friars. Yet the sad year of Francis's death in 1226 was capped for Giles by an appearance from the Lord – the greatest event of his life, he said, after his birth, his baptism, and the day he took the habit. He retired to a hermitage in Perugia where he spent most of his time in silence. He died on April 23, 1262. He was beatified in 1777.
Source : The Franciscan Saints  (Franciscan Media)