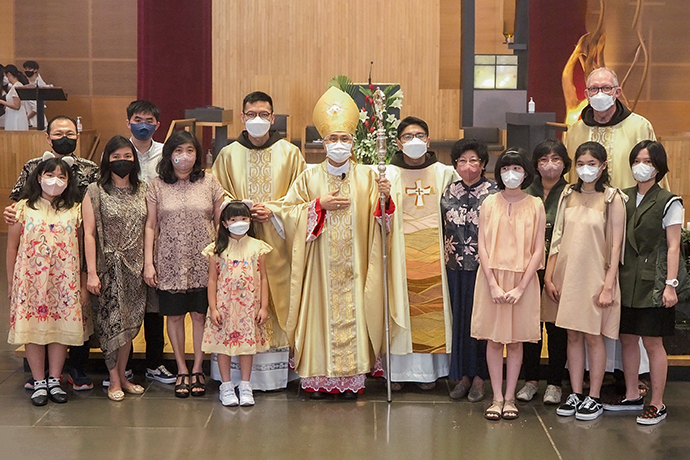 "My heart is full of joy, and I'm so proud of him," said the mother of Franciscan Friar Robin Toha, Mrs Elsie Toha, with tears in her eyes. "I pray he will be a humble and good priest working in God's Vineyard." Forty-year-old Fra Robin was ordained to the priesthood by Cardinal-elect William Goh on June 21, 2022 at the Church of Saint Mary of the Angels.
During the Mass, Cardinal-elect Goh reminded Fra Robin to always be grateful for God's blessings. "Without gratitude, one becomes arrogant and proud. We must remain humble before the Lord, recognising that He supplies us with the necessary graces for our ministry. The life of a priest is not without suffering and requires dying to self. But I can assure you that you will find great peace and joy if you continue to give yourself generously to God and His people," he said.
Fra Robin was born the only son to a Buddhist-Taoist family in Palembang, Indonesia. When his father passed away, his mother found comfort in the Catholic Church, and the family was soon baptised. But Fra Robin found it challenging to have faith in God when it seemed that He had 'taken away' his father, causing his family much hardship. When he came to Singapore for studies, it was his new Catholic friends and the Franciscan Friars who ministered to the Catholic Student Apostolate at his university that reignited his faith.
Having become a Singapore citizen, Fra Robin felt prompted to seriously consider joining the religious life after miraculously recovering from an illness where doctors only gave him a year to live. Looking back on his faith journey, Fra Robin understood that it was always God who loved him first. "The Lord can never be outdone in generosity. I pray I may always be like the Good Shepherd who lays down His life for His sheep."
His advice to those discerning their vocation, "Do not make decisions based on other people's influence or pressure from others. Be open and honest in your discernment – our vocation should lead us to be free to be who God means us to be."
Archbishop John Wong of Kota Kinabalu Diocese also ordained four Franciscan friars from the Custody of St Anthony, Franciscan Friars of Singapore and Malaysia on July 2, 2022 at the Sacred Heart Cathedral, Kota Kinabalu, Sabah. The four friar priests are Crispus Mosinoh, Gerald Saimel, Cosmas Francis and Sixtus Pitah, OFM. All of them are graduates from the St Francis Xavier Major Seminary in Singapore. Many Singaporeans from various parishes went to celebrate the occasion with the friar priests.