On 8th February 2020, we were blessed to have Julian Chua (from Church of St Mary of the Angels, Singapore), Sylvester Singh (from Church of Christ The King, Singapore), and Timothy Fong (from Sacred Heart Cathedral KK, Sabah) begin their Franciscan life in our Custody.
The new postulants were welcomed by the brothers at St. Anthony Friary Chapel in a simple but meaningful liturgy with brother Philip Miscamble, the Minister Provincial.
Under the direction of Friar John Soh, the three postulants will begin their journey as Franciscans. Apart from activities such as gardening, household chores, studies, and recreation in a typical day, they are also undergoing initiation year in the historical College General in Penang, studying subjects including Salvation History, Growth & Spirituality, Vatican II, Introduction to Liturgy, and Music. They are also involved with the apostolate for the blind.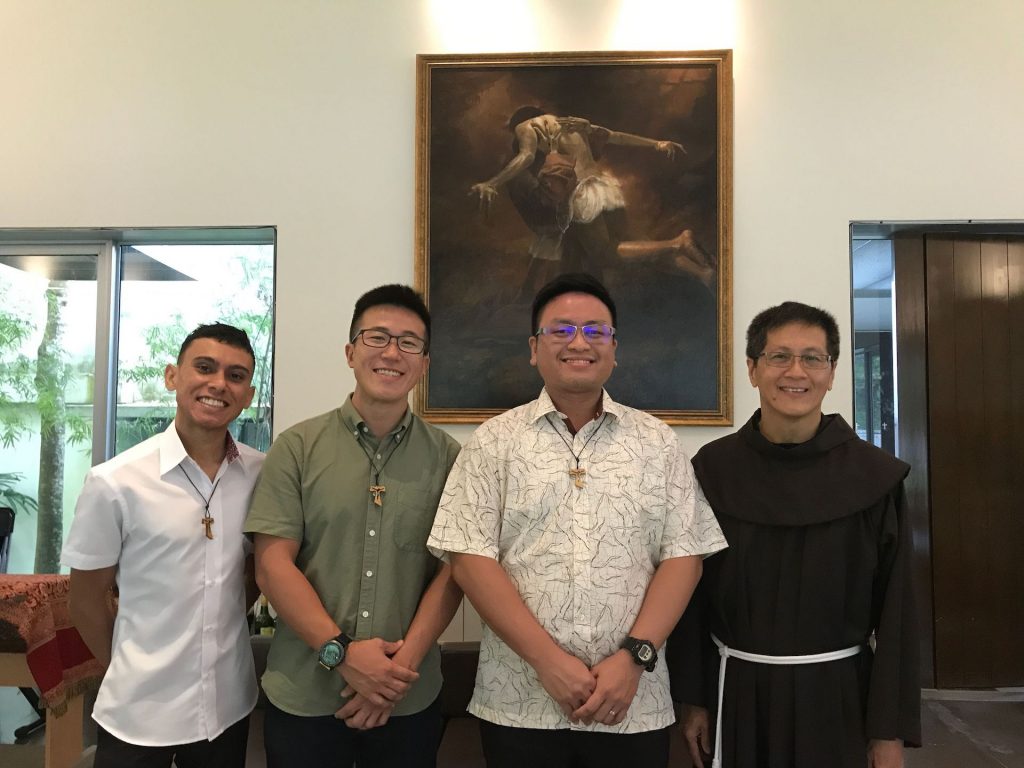 When asked about their wishes in this journey, all three expressed a desire to follow Christ in the footsteps of St Francis of Assisi. "In my postulancy, I hope to flourish in living the gospel of Jesus Christ," shared Br Timothy, "to be assisted in pondering the innermost roots of my vocation and to experience the Franciscan life step by step." Br Julian, likewise, hopes "to be immersed in Franciscan community life, prayer, and ministry", and adds that he seeks "to be guided in the preparation for religious life." Br Sylvester hopes to deepen his love of Christ through a fraternal life of joy, prayer, and service with his fellow brothers. "I pray for the grace of openness to the Holy Spirit, our Teacher and Guide."
Let us pray for our three new postulants in this stage of their discernment.