In less than two months, the Extraordinary Jubilee Year of Mercy comes to a close on 20 November 2016. This year of grace has seen the Pope stressing the need to put our feet in another person's shoes, to understand their pain and to embrace them. It has been a time to remember to reflect God's mercy in our lives; a time to rethink the way we treat others as brothers and sisters in Christ; and a time for a communion of hearts.
What better way to close this jubilee year and celebrate this communion of hearts than by sharing a meal and a message from the Lord? The friars at Greccio decided to do exactly this by staging a play entitled "The Weight of Mercy" for three nights, from 14 to 16 October. Before the performance each night, everyone will gather for a meal.
The play is inspired by an award winning book titled "The Weight of a Mass" written by Josephine Nobisso. Couched in the language of a fairytale, this story is based on a miracle that actually took place. Our friars-in- formation first read this book as part of their speech class. As part of their training to prepare them to become effective ministers of the Word, friars-in- formation are given training in speech and grammar.
"We saw the potential for the story to be something really special if it could be staged as a play," said Brother David Au, who made his Solemn Profession in July. "Apart from its simple yet beautiful message, the idea of using drama as a means to proclaim the Gospel appealed to all of us."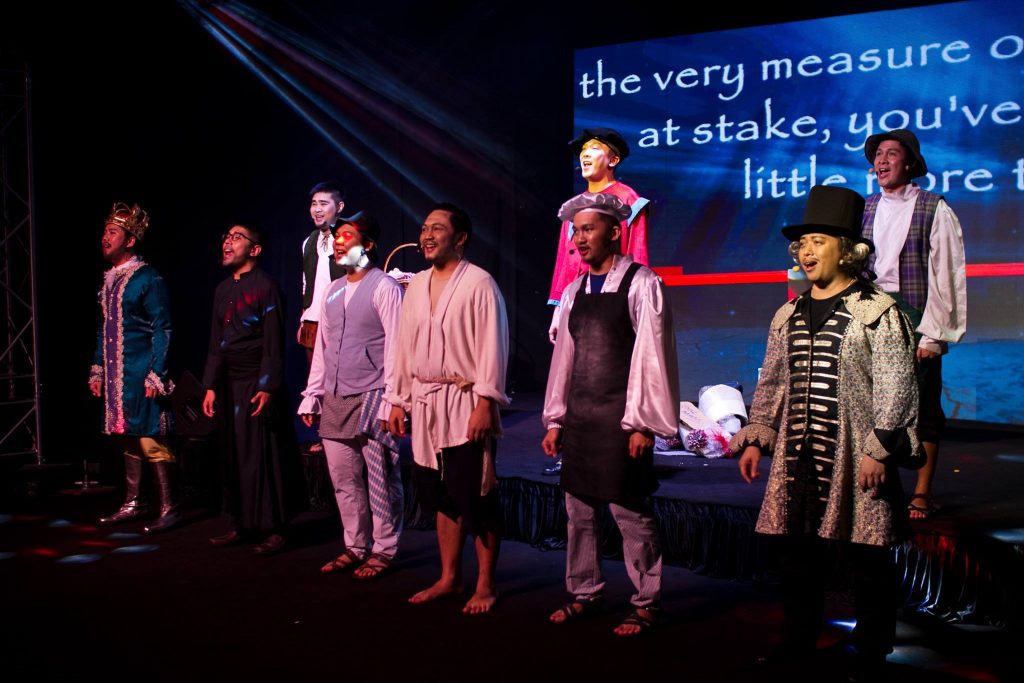 Work began in earnest in June 2016. The script had to be written and the roles cast. They did not have a professional scriptwriter or a casting director, and had little experience. But that did not deter them. The friars-in-formation plunged eagerly into unchartered waters, volunteering for roles they were not too clear about! All they knew was that there would be singing, which was one of their great loves.
Very soon, people were found for the non-acting roles from sound, publicity and stage management to costumes to catering and event planning.
"This very much reflected our inter-dependence on each other, as members of the same body of Christ, in order to achieve a common goal and our shared life as brothers," said Brother David.
The friars-in-formation have continued their efforts undeterred by the unknown and setbacks. As Brother Robin Toha said, "One day, when we're old, I'm sure the brothers will talk and laugh about our experiences staging this play!"
And they have found the experience of staging their first production to be a period of grace and learning.
There are several references to the Eucharist in the play, and Brother Crispus Mosinoh shared that, "Through the play, I am reminded of God's everlasting love and mercy when we celebrate the Eucharist."
Brother Sixtus Pitah is cast as a cripple and an outcast. "Playing my role on stage gave me a deeper insight into the lives of the people I serve," he said.
Sharing his sentiments, Brother Cruzender Alex shared, "I find that the 'weight of mercy' is reflected in the lives of the poor and marginalised."
And for Brother David, this has been "a precious reminder to everyone involved that the biggest work of collaboration, involving all of us, is building the kingdom of God through our words and actions!
"Many of us friars-in-formation hold dear the idea of coming together to eat, pray and minister in the likeness of Francis and his early followers. In putting on this play, we have found that the joy that comes from a respectful acceptance of each other's strengths and temperaments far outweighs any upsets resulting from the disagreements that naturally happen in any collaborative work."
---
Catch the show below!
---
2016 The Weight of Mercy Theatre Production (Click here to see Facebook Photo Album)