On the afternoon of Thursday 27 April, the Minister General Br Massimo Fusarelli, Definitor General for Asia-Oceania and President of the Order's General Commission for Service for Dialogue Br John Wong, and Custos for Malaysia-Singapore-Brunei Br Derrick Yap visited the Harmony Centre at An-Nadhah Mosque in Singapore as part of the Order's engagement in the Service for Christian-Muslim Dialogue, in the ongoing spirit of Damietta.
The visit was organised by Custody Secretary Br Aiden Peter and the group of friars were very warmly and graciously welcomed by Ustazah ("religious teacher") Liyana Rosli Asmara, the Director of the Harmony Centre. In September 2019, Ustazah Liyana had participated in an interreligious pilgrimage of 22 young Singaporean and Malaysian adults together with Br Aiden and Br John to Istanbul, Cairo, Mount Sinai, Hebron, Bethlehem, Nazareth and Jerusalem, as a special commemoration of the 800th Anniversary of the encounter between St Francis of Assisi and Sultan Malik Al-Kamil.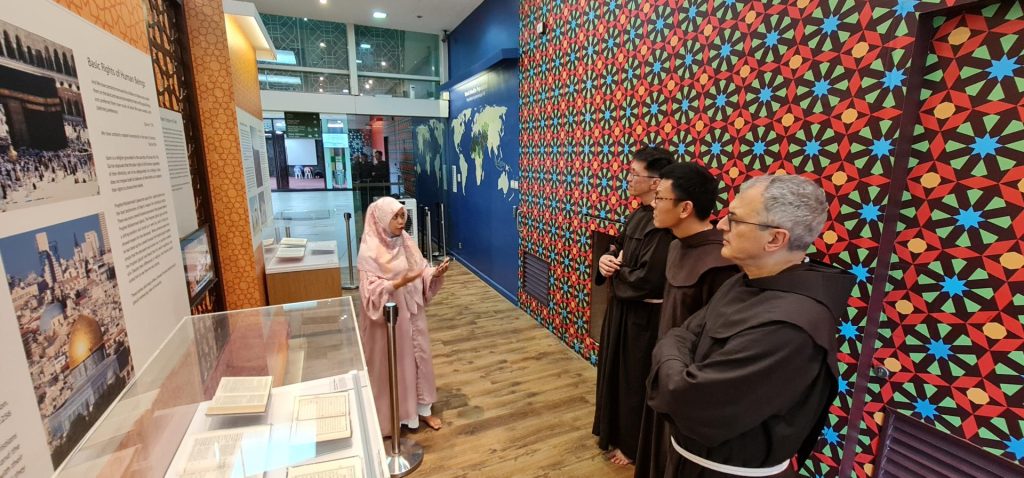 The Harmony Centre promotes the learning journey, engages in research, organises initiatives of respectful encounter and deep dialogue, and publishes materials to help build a more peaceful world. During the meeting, the Minister General and Director of the Harmony Centre shared on some common concerns, including the challenges of being persons of faith in societies that are secularised, pastoral care concerns, and how religious leaders can communicate with the youth in a relevant way in places that are now post-religious.
In addition, Br Derrick and Br John spoke with Ustazah Liyana about some possibilities for upcoming concrete collaborative initiatives in the service of dialogue.
Br John Wong
Definitor General for Asia-Oceania and President of the Order's General Commission for Service for Dialogue
Source : ofm.org