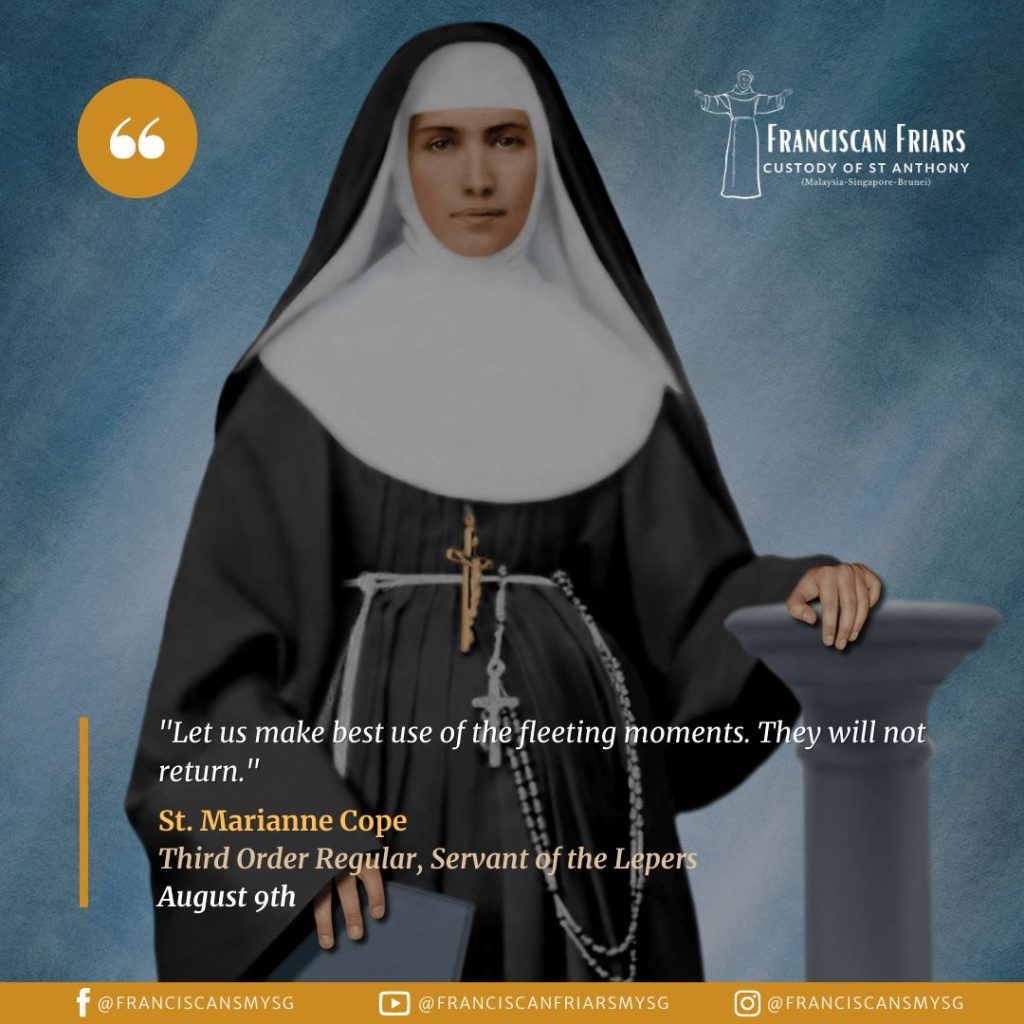 Barbara Koob, who was born in Germany, immigrated with her family to the United States when she was less than two years old. At the port of entry, the family name became Cope. In 1862, Barbara entered the Third Order Regular of Franciscans and received her religious name, Sr. Marianne. Her early years were spent teaching in her order's school and later serving as administrator of a hospital. In 1883, now the superior general of her congregation, she received a request from King Kalakaua in Hawaii for help in caring for leprosy patients. Though fifty other congregations had already declined the king's plea, Mother Marianne responded at one:
"I am hungry for the work and I wish with all my heart to be one of the chosen Ones, whose privilege it will be to sacrifice themselves for the salvation of the souls of the poor Islanders."
That year, she and six sisters sailed for Hawaii and immediately set to work establishing a hospital in Maui. Given the general fear of contagion and the social stigma attached to those suffering from Hansen's disease, the sisters' dedication to their patients won wide respect. Eventually, Mother Marianne consented to move to the island of Molokai, where the most serious cases were confined. There, one of her first tasks was to care for Fr. Damien de Veuster, the famous "Apostle to the Lepers," who had succumbed to the disease during his long years of service. She embraced her work with joy: "Should I live a thousand years I could not in ever so small a degree thank Him for His gifts and blessings…I do not expect a high place in Heaven – I shall be thankful for a little corner where I may love God for all eternity."
Apart from nursing her patients, Mother Marianne strove to create an atmosphere of beauty and peace. Planting flowers around the hospital, she transformed the barren landscape into a garden.
Mother Marianne died of natural causes on August 9, 1918. She was canonized in 2012.