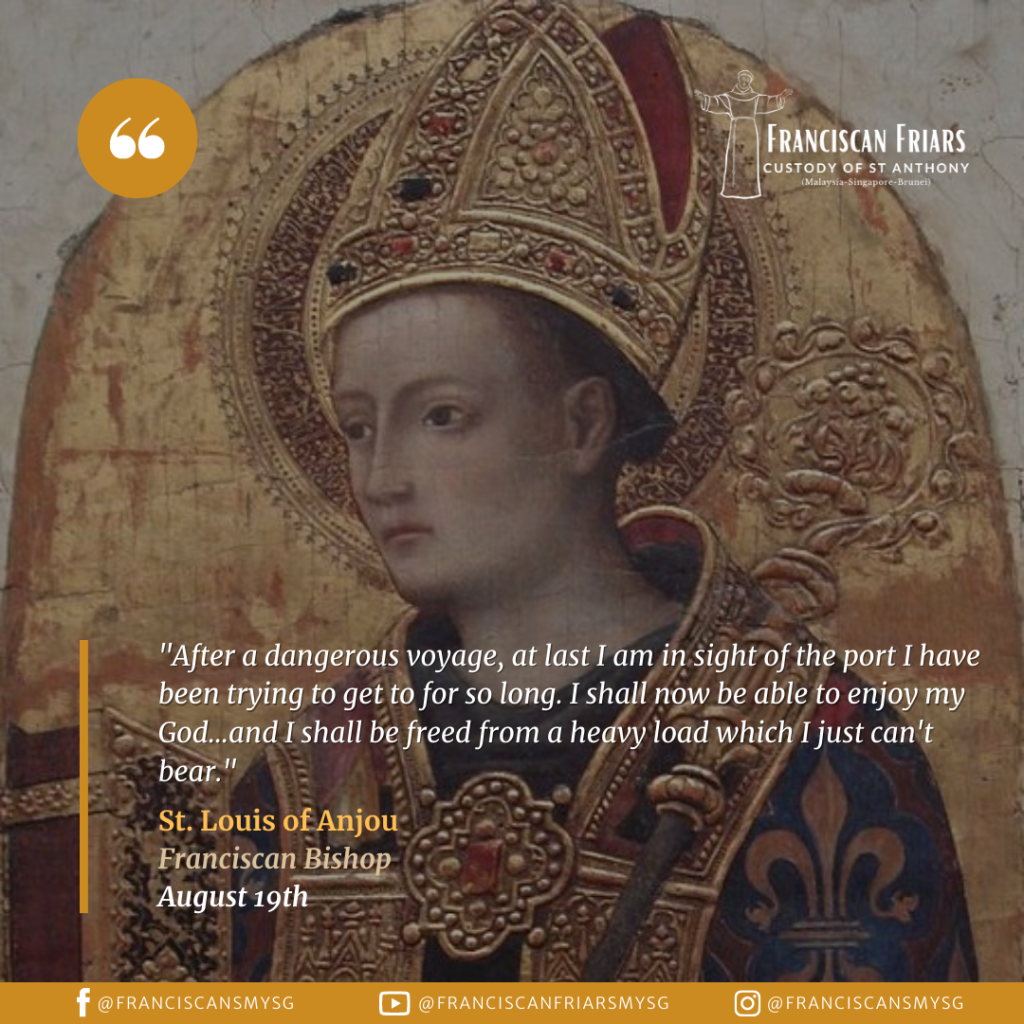 Louis was born to a royal family. His father, Charles II, was king of Naples and Sicily. This had its downside. When Charles was taken prisoner in a battle with the king of Aragon, he agreed to secure his release by surrendering his three sons as hostages. Thus, Louis remained a prisoner in Barcelona for seven years. Yet he did not find this arrangement uncongenial. Impressed by the Franciscan friars who tutored him, he vowed one day to join them.
Upon Louis's released in 1295, his father tried to arrange his marriage to the daughter of his former captor. Louis refused. What is more, he insisted on surrendering his title. "Jesus Christ is my kingdom," he said, "If he is all I have, I shall have everything. If I don't have him, I lose everything." Though his family acceded to his wish, they drew the line at his becoming a Franciscan.
When Louis was twenty-three, a further setback to his desire for a simple life came when Pope Boniface VIII appointed him bishop of Toulouse. There was, of course, the matter of his first being ordained a priest. Louis agreed on condition that he could make a religious profession among the Friars Minor, thereby fulfilling his childhood dream. Clothed in a tattered habit, he appeared on foot in his new bishopric. Stripping the episcopal palace of all luxury, he set an example of simplicity for the whole diocese. But he hated the burden of office, and after only three months he asked to resign. Permission was denied. Nevertheless, he soon fell ill and died a few months later, on August 19, 1297.
Louis was canonized in 1317. The famous mission of San Luis Obispo in California was named for him.
Source : The Franciscan Saints  (Franciscan Media)