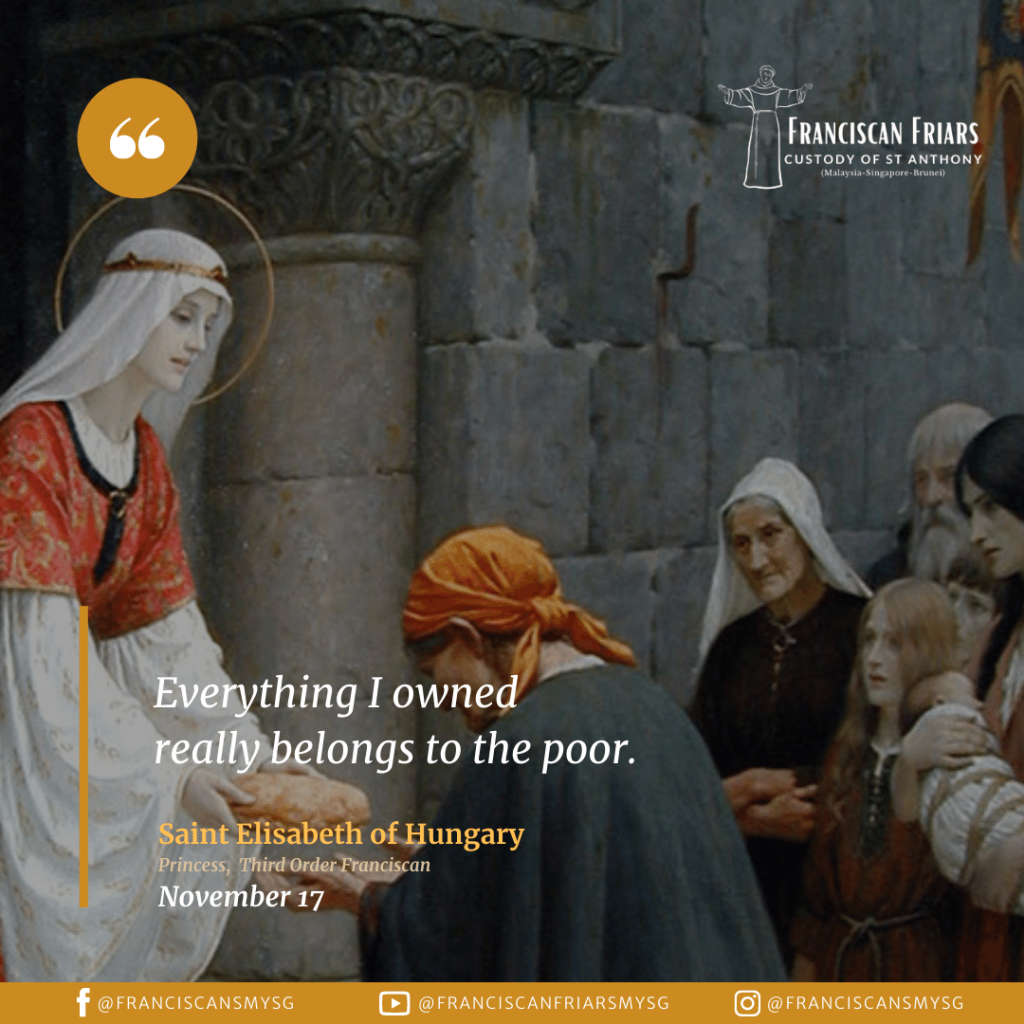 St. Elizabeth, the daughter of Hungarian royalty, was betrothed at the age of four to Ludwig, the nine-year-old prince of Thuringia in southern Germany. Despite the arrangement, in which they had no say, the two children established a close friend- ship that eventually blossomed into a loving marriage. Elizabeth bore three children. But Ludwig's family disapproved of her piety and especially her "inordinate" charity toward the poor and sick. The young princess, it was said, dressed too simply; she was too profligate in her almsgiving. After Elizabeth established several hospitals she aroused scandal by nursing the sick, even lepers, with her own hands.
Nevertheless, her instinctive spirit of poverty was only magnified upon the arrival of the first Franciscan missionaries in Germany. Elizabeth was captivated by the story of Clare and Francis (from whom she received the gift of his cloak), and she eventually embraced the rule of a Franciscan tertiary. During a time of famine, while Ludwig was away, she opened the royal granaries, thus winning the people's devotion. Such generosity, however, only increased the scorn of elite members of the court.
She who had embraced the spirit of poverty now found herself happy to accept shelter in a pig shed.
In 1227, Ludwig died on his way home from a crusade. In a paroxysm of grief, Elizabeth cried out, "The world is dead to me, and all that was joyous in the world." Without her husband's protection, she was at the mercy of her in-laws. They banished her from the court, forcing her to leave the palace on a wintry night, carrying nothing but her newborn child. She who had embraced the spirit of poverty now found herself happy to accept shelter in a pig shed.
Eventually, to avoid scandal, she was provided with a simple cottage, where she supported herself by spinning and fishing. She continued to visit the sick in their homes or in the hospices she had endowed. Over time, her reputation for holiness spread, and she earned the grudging respect of those who had persecuted her. In 1231, she fell ill and announced calmly that she would not recover. She died on November 17 at the age of twenty-four. She was canonized less than four years later.
Source : The Franciscan Saints  (Franciscan Media)