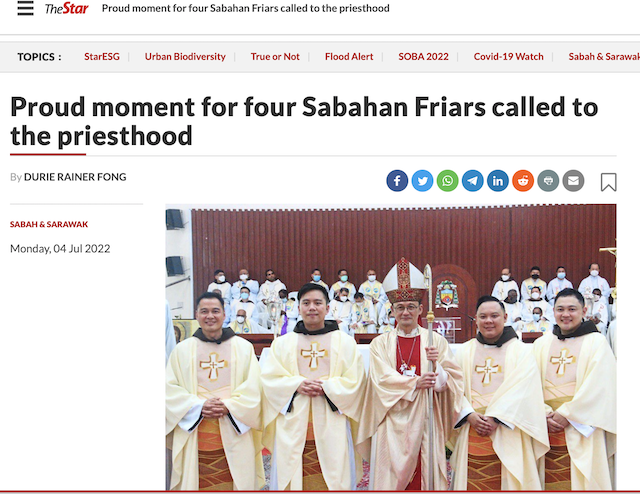 KOTA KINABALU: A group of Kadazan Dusun men made their community proud when all four were ordained as priests at the same time on Saturday.
Cosmas Francis, Gerald Terence Saimel, Crispus Mosinoh and Sixtus Pitah Amit – all Friars from the Catholic Church's Franciscan order – took their vocations as priests in front of their proud family members and the faithful at the Sacred Heart Cathedral here.
The ceremony was celebrated by the Most Reverend Datuk John Wong Soo Kau, the Archbishop of the Kota Kinabalu Archdiocese.
The men had promising careers before joining the Order of Friars Minor (OFM), a mendicant religious order.
Cosmas, 47, was previously in the hospitality line while Gerald, 35, who has a Masters degree in counselling psychology, had worked as a tutor in Universiti Malaysia Sabah and also served as a professional counsellor at the Sacred Heart Cathedral.
Crispus, 36, and Sixtus, 35, were both English teachers, having taught in Sabah's east coast Beluran and Sandakan districts respectively before they answered their vocation.
All four had gone through their formation for eight years in Singapore, attending the St Francis Xavier Major Seminary there.
"Yes, it's a historical moment for us because it's not often that four Sabahans are ordained as priests simultaneously and all are from the OFM," said Gerald.
"I am excited but also a bit nervous," he said, adding he had journeyed with the order since he was 19 years old but only decided to join the Franciscan Order of the Custody of St Anthony in Malaysia, Singapore and Brunei in 2014 when he was 27.
He and Cosmas took their final vows as Friars, known in the church as a Solemn Profession, in Singapore last year which afforded them the title as religious brothers. Crispus and Sixtus took theirs in 2020.
After their priestly ordination, which now makes them Friar Priests, all four will continue serving in the respective parishes within Sabah and other parts of Malaysia they were earlier assigned to, at least until the end of the year.
But because the Franciscans are an international order, Gerald said they could be sent anywhere in Malaysia or around the world to serve, adding that there were only 11 Friars from Sabah, with only five ordained as priests before the four of them.