Wahhh … you guys are going to Australia? Have a nice holiday!"
"Are you sure you are going to learn something in Australia? Sounds more like a long holiday." 
"Don't go to Victoria Market, go to the South Melbourne Market. That's the better place with better deals."
These are just a few of the comments people made when they heard that we were going to Australia for our immersion and exposure to our province. We could not lie. Australia was an exciting place to go for our immersion. It is a land of milk and honey, literally, because indeed, a lot of the milk and honey sold in Singapore comes from Australia. The thought of visiting famous places, such as the Sydney Opera House, for the first time added to our excitement.
As much as the seven of us were excited about going to Australia, we were also worried about the unknowns. None of us had ever lived in cold weather. Airconditioning at 16 degrees Celsius was the coldest we had ever felt. Also, for most of us, English was not our first language, and we were not confident of speaking to "ang mohs" in our imperfect English. What if they did not understand us? 
After spending the first few days going around to get familiar with our new home and the surrounding area, we were assigned to a shelter for the homeless, De Porres House. We went with some apprehension. How were we supposed to minister to them? We had been told they might not be polite to us. We had also heard that some of them might not like Asians, and that some might be drunk or high on drugs. The shelter sounded more intimidating when we thought too of how Australians are generally taller and bigger than us physically. 
Thank God we found we had worried unnecessarily. We were welcomed with warmth, and the residents were interested to get to know us. Things became easier for us as time went by. We got to know them by name, and some of them shared their personal stories with us. After a few days with them, they were no longer just "homeless people". They were Paul, Tom, Grant, Jason, James, Steve, Rob, and so on. Each of them had a name. Each of them had a story.
We enjoyed listening to them. They made us realise that everyone there, whether an ex-prisoner or a drug addict, had a story about their lives. The stories were not beautiful, and sometimes they were so painful,
we felt we would rather not have heard them. It was difficult to imagine that God was present in their lives like God is present in our lives. They gave us a new understanding of what Pope Francis meant when he asked us to take care of those on the peripheries.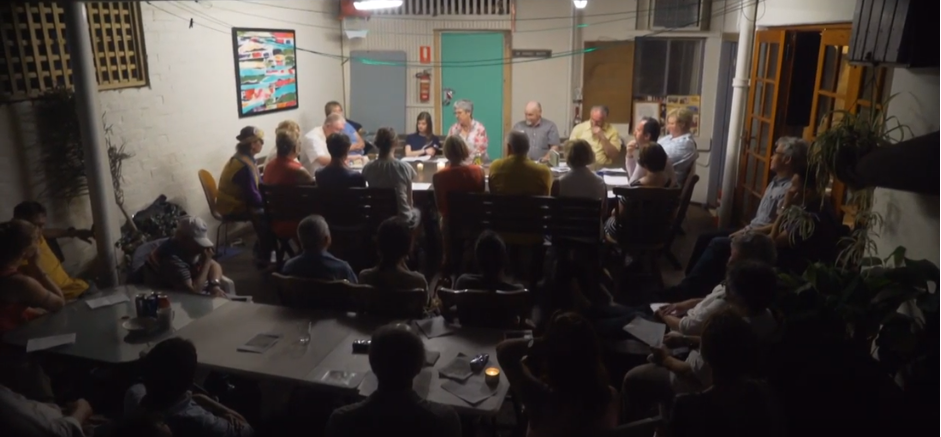 We will never forget our first Eucharistic Celebration there. All of us sat together encircling the dining table that had been transformed into the altar. We sang "I Will Never Forget You" for the opening hymn, in the Gospel Reading, we heard Jesus say, "Zacchaeus, come down immediately. I must stay at your house today", and we sang "One Bread One Body" for our communion song.
The songs and reading came alive as we shared the Eucharistic meal together. Jesus had come to be with His people who had no place in society. Jesus was there with us, in communion with His people who had no one but Him.
Serving in a shelter for the homeless turned out to be not difficult after all. We only served them by providing food and accompaniment. They helped us to encounter God in a way we had never imagined.
We had another surprise as we explored the life of the Church in Australia. We had read up and prepared ourselves to enter into churches that are pretty much "dead". We had been told there is no life in the Church, that there are only old people in the churches. What we found was that although there is a bit of truth in that, there are a lot of great things going on at the same time.
For example, in Brisbane, we attended an event initiated by the youth to help those far away from the Church to encounter God. The Nightfever event was held at St Stephen Cathedral, which was kept open for public adoration throughout the evening. The Blessed Sacrament was placed in a beautiful monstrance on the altar and prayerful live music played in the background. The special thing about this event was how the youth went out in twos into the streets to invite everyone they met to go to the cathedral, light a candle and place it around the altar.
The young people's invitation was not always successful. One of the most common rejections they received was "I am not a holy type". Sadly, some think that we have to be holy to be part of the Church.
When the invitation was accepted, it was heartwarming to see the candles being lit. Some people decided to stay and pray for a while, and some even decided to receive the Sacrament of Reconciliation.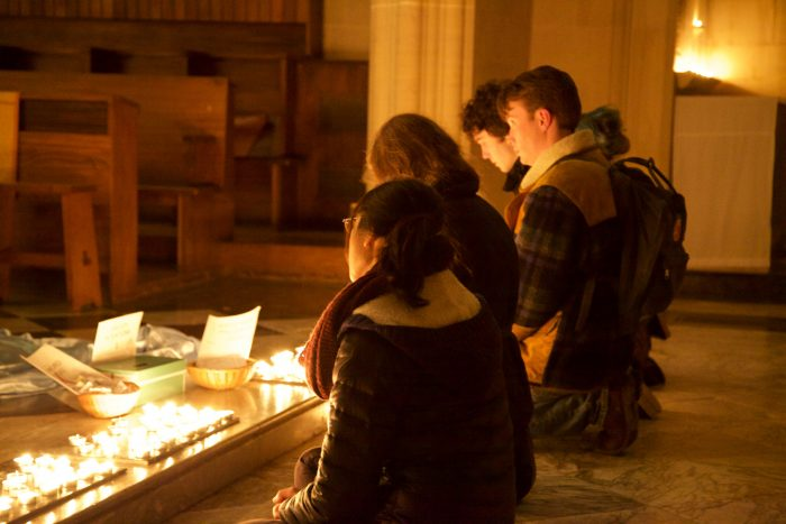 Once again, the message of Pope Francis echoed in our minds. Going to the peripheries does not necessarily mean going to a faraway mission land. We realised that there are many people who are not "inside" because they either do not know that they can be inside or they feel that they do not deserve to be inside. There are many people who do not know that God loves them as they are.
We thank God for the lessons we learnt in Australia. Going for devotions and adoration are important, but Jesus is not only inside the church. It is also important to bring Jesus to people. The Sydney Opera House is beautiful, but De Porres House has a special place in our hearts. As Friars in Initial Formation, we had learnt an important lesson – that each of us has a name and a story, and that each of us is a beloved child of God.
This is our Christmas wish for you. As we celebrate Christmas, may we always be aware that we are loved. God bless.