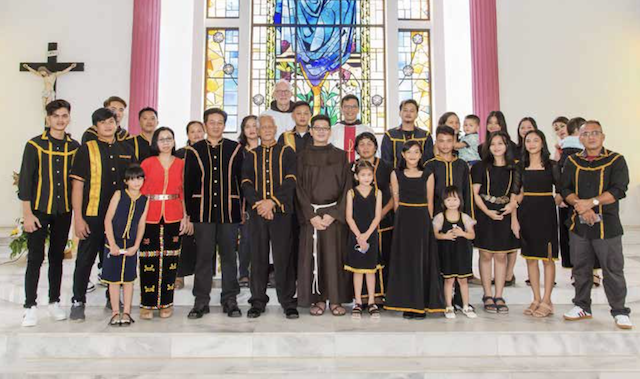 On a fine Saturday morning in July, in the presence of more than 750 people comprising friars, family, friends and parishioners, Friar Nelson Evarinus made his Solemn Profession to observe the Rule of St Francis according to the Constitutions of the Order of Friars Minor. His family and other relatives had made the trek from different parts of Sabah for a front-row seat to witness this milestone in Nelson's journey as a Franciscan friar.
Friar Nelson is Kadazan, an indigenous ethnic group in Sabah, and it was important for him and the friars that his cultural roots be honoured. Kadazan culture abounded throughout the liturgy. Dancers in traditional colourful clothing made their way up to the church as part of the dramatic entrance procession, and the rousing music, song and local dance inspired spontaneous participation amongst the congregants, especially the stirring renditions of the "Gloria" and "Alleluia".
Provincial Minister Friar Phillip Miscamble received Nelson's profession at the Mass at the Church of St Aloysius in Limbanak, Kota Kinabalu on 9 July. In his homily, Friar Phillip said, "Your brothers and sisters welcome the call that you have received, and we will be there to support you as you go forward. Keep radiating the joy of the Gospel with your beautiful smile. Continue to pass along the goodness of God's people, and build the Kingdom every day of your life."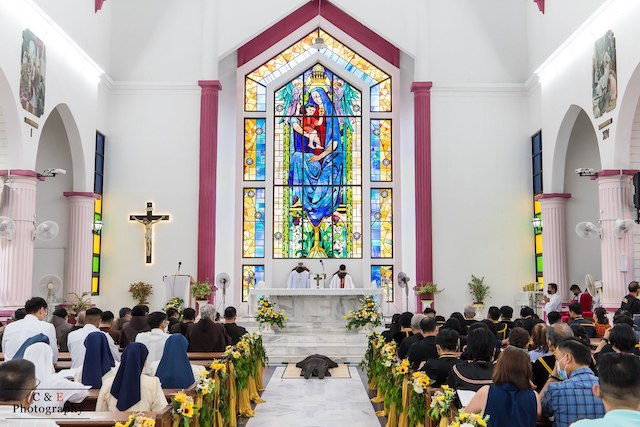 At the end of the Mass, Friar Phillip reminded everyone that Francis realised that "the hand of the Lord rested upon him" and as such, the first thing to do in life is to welcome life, and welcome the gifts that the Lord with goodness and graciousness freely bestows. Francis learned to embrace everything and everyone, and this, Friar Philip said, is possible for all of us.
When asked to describe the emotions that ran through his mind before and during the rite of his Solemn Profession, Nelson shared, "I felt a profound sense of peace. It felt right. I was happy to make the offering to God and to make the promise to Jesus Christ to follow the Gospel as well as I am able."