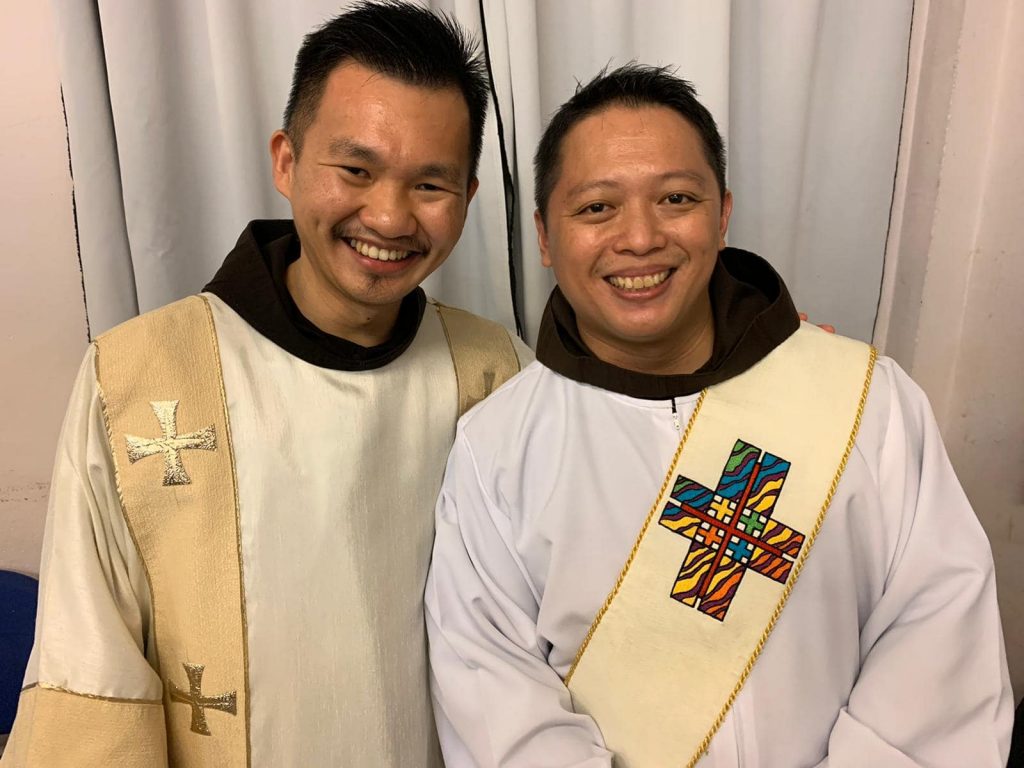 In John 15:16, Jesus says "You did not choose me, but I chose you." Indeed, that was true during the final week of October 2019, when the Custody of St Anthony Malaysia-Singapore-Brunei saw the ordinations of Friars Cruzender Alex and Aiden Peter Jr to the priesthood, amidst great thanksgiving and joy.
The two Sabahan friars entered the novitiate together in 2011, and after journeying for nine years, became friar-priests in the same month. Friar Cruzender made his way back to his hometown of Tuaran, Sabah for his ordination by Archbishop John Wong of Kota Kinabalu on 22 October. Friar Aiden Peter received the sacrament through the hands of Singapore Archbishop William Goh at the Church of St Mary of the Angels, Singapore on 27 October.
Present at the ceremonies were the Friar Phillip Miscamble, Provincial Minister of the Province of the Holy Spirit to which our Custody belongs, Custos Friar Derrick Yap and many guests who came from far and near to be with the newly ordained. The journey of any Religious entails the support and sacrifice of those around him, particularly his loved ones, and Friar Phillip thanked Cruzender and Aiden's families for the gift of their sons to the Franciscan Order and the Church. Friar Phillip also made special mention of the Franciscan Sisters of the Immaculate Conception, who have been instrumental in promoting Franciscan spirituality and vocations among the youth in Sabah, to the point that our Custody is now blessed with enough young friars to consider establishing a presence in Sabah in the not too distant future.
In his thanksgiving remarks, Friar Cruzender admitted to having gone through many struggles on his journey towards priesthood, but added that the Lord continues to grant him hope and assure him of His divine assistance. Friar Aiden thanked his pillar of support – all those who supported him through prayers or mentorship – and urged the young people gathered to consider the challenging but rewarding life of a Religious.
Truly the week was yet more proof of God's unfailing providence in the growth of His kingdom in this region.