So many more came to our first Franciscan Spirituality Conference than we had dared to hope. We expected many friars, sisters and Secular Franciscans. After all, the conference was part of the celebration of the 8th centenary of St Francis writing the Later Rule, and it was an opportunity to gather as a Franciscan family to witness to the fraternal journeying together, male and female Franciscan religious, young and senior members, contemplatives and actives. However the conference also drew a good number of the greater body of the Lord's faithful, showing that there is a clear interest in Franciscan spirituality.
The conference was held over two days each in three locations – Kota Kinabalu (12-13 April, below), Kuching (15-16 April, top, right) or Singapore (19-20 April, right) – so that more people could join us in learning from Friar Wayne Hellmann OFM Conventual, a distinguished Franciscan academic and scholar. It was organised in collaboration with the Secular Franciscans in Singapore and Franciscan sisters congregations in Malaysia.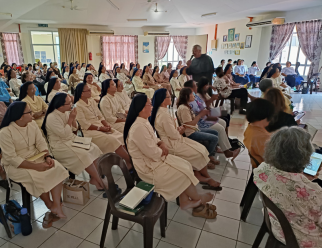 Friar Wayne is one of the most brilliant and prolific Franciscan scholars of our time. He specialises in the writings and theology of St Bonaventure, and is professor emeritus at Saint Louis University, USA.
Over four talks, Friar Wayne brought us on a Franciscan spiritual journey. He began with the heart of St Francis in the first talk, "Francis, Teacher of Prayer", where he delved into the meaning of the prayers Francis prayed throughout his life and taught his brothers. Several sisters and seculars said this session brought them closer to the heart of Francis, and made them feel closer to our spiritual father and his way of journeying into God.
In the next talk, "Franciscan Vision in the teachings of Pope Francis", Friar Wayne helped us to recognise this privileged springtime of Franciscanism when a Pope has chosen to embody the vision and spirituality of St Francis of Assisi in his teachings and Petrine ministry.
On the morning of day 2, by expounding on Bonaventure's theological insight on the Holy Spirit, Friar Wayne helped us to recognise the Holy Spirit as "The Culminating Gift" given to us. In the evening, in the final talk of this conference journey, "Recapturing our Symbols", Friar Wayne used Desiderio Desideravi, the Pope's Apostolic Letter on the liturgical formation of the people of God, to guide us through how we can grow in earnestly encountering God in the Sacraments and Liturgy.
For Russell Tan, who attended Friar Wayne's final talk, the Franciscan perspective of Desiderio Desideravi was something new. "Friar Wayne reminded me that we are called to be fraternally One in Christ in our worship," he said.
As for the Franciscan family, Friar Derrick Yap, who accompanied Friar Wayne to all his talks, said he heard many sisters and seculars express the hope that there would be more such sessions to deepen their knowledge and passion for Franciscan living and mission.