Dearest family and friends,
May the Lord give you peace!
Finally! All the friars in Malaysia and Singapore could meet face-to-face as an entire entity.
We had a chain of celebrations starting with the Priestly Ordination of Friar Robin Toha in Singapore on 21 June, followed by the Ordination of Friars Cosmas Francis, Crispus Mosinoh, Gerald Terence and Sixtus Pitah in Kota Kinabalu (KK) on 2 July, and the Solemn Profession of Friar Nelson Evarinus on 9 July, also in KK.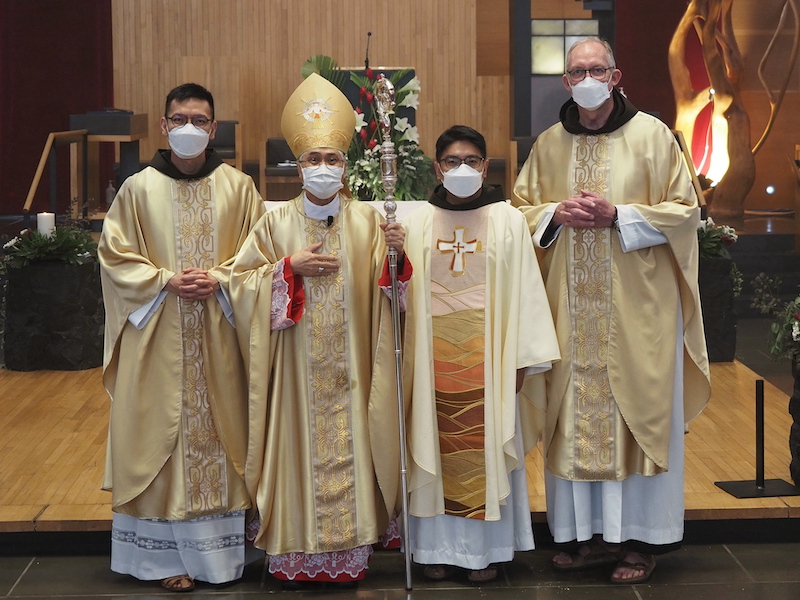 We also gathered for an Assembly to review where we are now, individually and communally, and where the Lord is inviting and challenging us to venture into. We shared stories, listened with purpose and named what affected us. I could feel our brothers' audacity in being vulnerable and honest with one another. And because of this, we can listen to the Lord together, with a space in our hearts for God, brother and neighbour.
This sharing and listening will be the springboard for more concrete decision-making at the Custody Chapter to be held on our Bukit Batok property from 17 to 21 October.
The current "battle-cry" of the Franciscan Friars worldwide is Contemplative Fraternity-in-Mission, and my personal prayer and dream as Custos is that each friar will continue to be intentional and intensify his own interior spiritual journey. Knowing that we cannot give what we do not have, it is only by committing ourselves to our "soul's journey into God" (quoting St Bonaventure), that each friar can be more and more in touch with the Spirit's prompting for himself and for others.
As we celebrate St Francis' Feast Day on 4 October, we allow his lived wisdom on fraternity to impact our lives. When others hurt us, we need to be ready to offer mercy to them, to not focus on the hurt to ourselves but rather to be "disturbed by the sin that he is inflicting on himself". If someone causes us some hurt due to some toxic pattern of behaviour, this same toxicity is eating him or her up all the more intensely, and hence deserves our empathy and compassion.
St Francis teaches all of us to move the spotlight away from ourselves and put it on someone God wants us to focus on. If we keep dwelling on the faults of others and the hurts they have caused us, the spotlight is certainly on us. This sort of victim mentality does not help build bridges; it burns these bridges instead. And Pope Francis, in his encyclical 'Fratelli Tutti' which is on Social Friendship, exhorts us all to build bridges and not walls.
I am working on this interior journey myself and more importantly, allowing God to work in and through me. I know many of my brothers are of the same mind, and for this, I am grateful and edified. Together, we continue the God- inspired mission of St Francis to go out to all people and all creation, and connect with those who do not feel loved, who do not feel they are good enough and who do not feel they belong. And we friars invite you to not only pray for us, but to also join us in this beautiful mission!
Peace and all good,

OFM Custos,
Custody of St Anthony
(Malaysia-Singapore-Brunei)