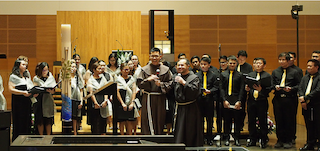 On 8 October, the Church of St Mary of the Angels will reverberate with song as youth and the young at heart lift their voices in praise of God. Featuring a number of youth praise and worship bands and Friar Derrick Yap OFM singing with Mystic Font, the inaugural Festival of Praise will hopefully be an annual event on the Saturday following the feast of St Francis.
This concert will be a celebration of the gift of St Francis and his spirituality for a contemporary church. It is a time to come together after isolating for the last two years, and what better way than to gather to lift our voices in praise of God for the gift of faith and of Fraternity!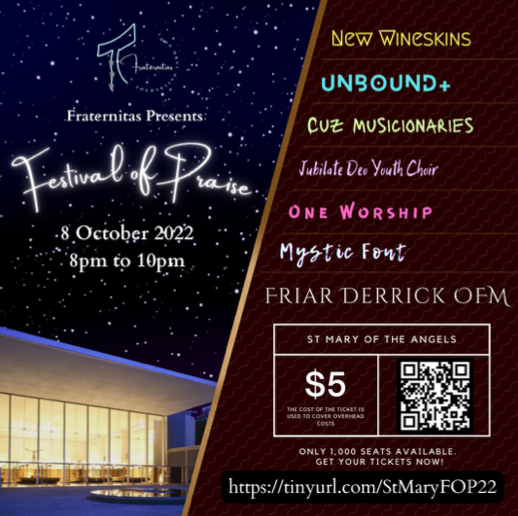 This event is the first presented by Fraternitas, a ministry of the Franciscan Friars to youth and young adults. Fraternitas aims to bring together creative talents from around the Singapore Catholic Church to share and celebrate as one Church. With the concert, Fraternitas hopes to encourage youth bands from around the country to gather in song and music to celebrate what it means to be Church in Singapore.
To compliment the evening of song and music, volunteers from the parish of St Mary of the Angels will hold a food fair pre- and post-concert. The food fair will begin at 5pm.
At this event, Fraternitas will also launch "Canticle", another community under its wings. Through Canticle, Fraternitas hopes to invite young creatives – musicians, composers, singers, dancers, poets, painters and more – to form a fraternity to journey together in faith,celebrating the gift of their talents.
A series of workshops and retreats is planned for this fraternity in 2023, and from this may spring forth new acts and items for Festival of Praise 2023.
To buy a ticket for the inaugural Festival of Praise, go to https://tinyurl.com/StMaryFOP22. Tickets are $5 each.